FORTE ALFALFA

ALFALFA

, NUTRITIONAL PROPERTIES

Beta-Carotene
Vitamins A – B2 – B3
Potassium and Omega 3
Proteins and Minerals
Chlorophyll
Xanthophyll
Sugars

One of the criteria for evaluating the quality of alfalfa is beta-carotene, a biological precursor to Vitamin A and naturally present in forage.

Among its properties is that of improving reproductive performance. In fact, it has a beneficial effect on both male and female bovine fertility. Beta-carotene increases resistance to infectious diseases and is used to prevent mastitis.
REGION: PO DELTA REGIONAL PARK

, THE DISTINGUISHING ELEMENT!

It's the climate and the environment that connect Forte alfalfa to its region of origin, and one's origins are essential to understanding one's roots.

This is also true for plants and our alfalfa. Being familiar with the region and with the origins of our animals' and our own nourishment is fundamental to ensuring universal well-being. The region is the distinguishing element of any crop and of our alfalfa as well. The Po Delta Regional Park is characterised by alluvial soil that is rich in sediments, with a unique microclimate created by the proximity of the Po River and the sea.

Do you still believe that all alfalfa is the same?
TRACEABILITY
Country of cultivation:
Italy
Regions:
Veneto
Emilia Romagna
(Po Delta Regional Park)
Values:
sustainability
NO-GMO
biodiversity
curative and therapeutic properties
animal well-being
organic and conventional product
guaranteed and certified product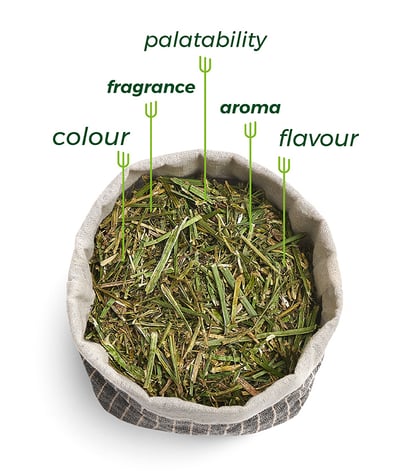 NOTES OF FLAVOUR
Thanks to the significant presence of beta-carotene, the level of palatability and digestibility for the animal is very high.
FEED DIVISION
Alfalfa represents a nutritional foundation and an element of stability in the rations of all ruminants and herbivores.
It provides nutritional characteristics that are particularly suitable to the formulation of rations that meet the needs of ruminants, young growing animals, sheep and goats, equids, and leporids. Its high palatability and the quality of the fibrous component make it an interesting ingredient for the modern rations of dairy livestock. The composition of the feed makes it competitive with respect to other food sources in the protein rations of beef cattle.
FARMERS DIVISION:


A PASTURE IN STABLE
The aromas and flavours of our outstanding Italian dairy products are heavily influenced by environmental factors, especially by forage, grass, and hay which are the primary diet for cattle. The year-round availability of forage that offers the exact same nutritional value as a fresh product turns our alfalfa into a "pasture in the stable". Thanks to its strong buffering capacity, our alfalfa represents an important element of ruminal stability in diets that are particularly rich in concentrates.
Furthermore, the natural amount of essential fatty acids in alfalfa boosts the Omega-3 fatty acid content of milk and meats. The fibrous component performs a thorough mechanical function at the level of the rumen, which perfectly complements that of other fibrous foods in the unifeed and in traditional feed rations.
RANGE PRODUCTS: BALES, PELLETS, AND WAFER CUBES

WAFER CUBES
OF FORTE ALFALFA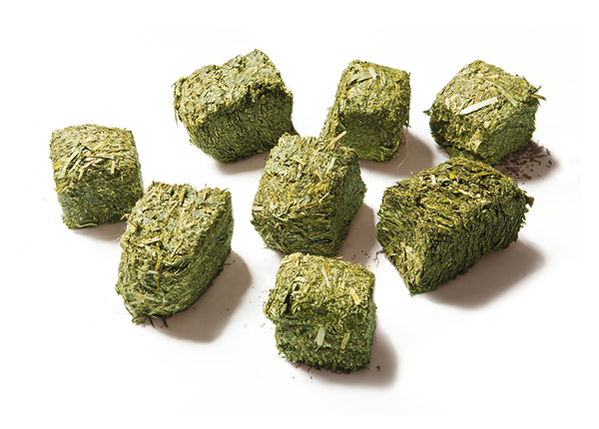 Recreational Riding Horses
Riding School Horses
Growing Foals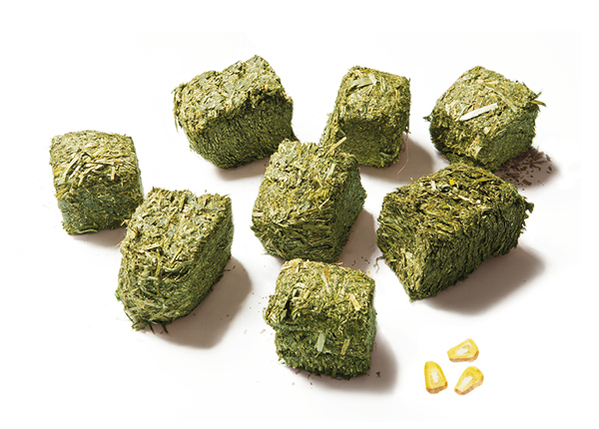 Sport Horses
Horses Subjected to Intense Activity and Training

FROM CUTTING TO CUTTING
FROM APRIL TO NOVEMBER, THE HARVESTING MONTHS FOR FORTE ALFALFA

BROWSE "GIGI'S" ADVICE
OUR VERY OWN GIGI HANDLING THE TMR PREPARATION
Episode I + Episode 2
ASK US
OUR EXPERT ARE AT YOUR DISPOSAL